Mail-In Rebate Offer Good Through September 30, 2009
Your rebate must be submitted by 10/30/09 to be valid.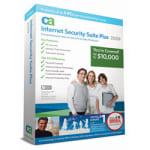 Getting ready for back-to-school shopping has had us looking at office supplies shops such as Office Depot. While getting this page up to date and ready, we came across a freebie - the CA® Internet Security Suite 2009 for 5 users
.
When you place this item in your cart, the price is shown as $59.99 (depending upon whether or not it is available in your particular area. As your order total is greater than $50, you'll get free shipping at Office Depot. You can print off the mail-in rebate form directly from OfficeDepot.com. As with most mail-in rebates, you'll need to include: the UPC from your product, your original store receipt with the qualifying purchase circled and the rebate form completed in its entirety. It is advised that you allow 8 to 10 weeks for the processing of your rebate and also that you keep photocopies of all the items submitted for your rebate. The address to mail this offer to is:
CA Rebates
Offer # 09-82082
PO Box 540028
El Paso, TX 88554-0028.
The fine print of the offer states the following:
TERMS AND CONDITIONS-Valid only with purchase of Internet Security Suite Plus 2009 5-user at Office Depot ONLY between 04/18/09 and 09/30/09. Your receipt or bill of sale must be either type-written or computer generated. Rebate submission must be postmarked by 10/30/09. Each offer good for ONE rebate per sku, name, address, household, group, organization or company. Not responsible for submissions lost or misdirected by postal or delivery service. Void where taxed, prohibited or restricted by law. Claims of nonpayment will require photocopy substantiation of all rebate materials. Reproduction or transfer of this purchase or cash register receipt is prohibited. Fraudulent submissions may result in federal prosecution for mail fraud (Title 18 of the USC, sections 1341 and 1342). Rebate value will not exceed purchase price. Requests with invalid or undeliverable mailing addresses will be denied. This offer is no longer valid if not fully redeemed within 6 months from the purchase date. If you have not received your rebate within 10 weeks, visit, www.carebatecenter.com or call 800-318-7961. Offer valid in U.S. and Puerto Rico.